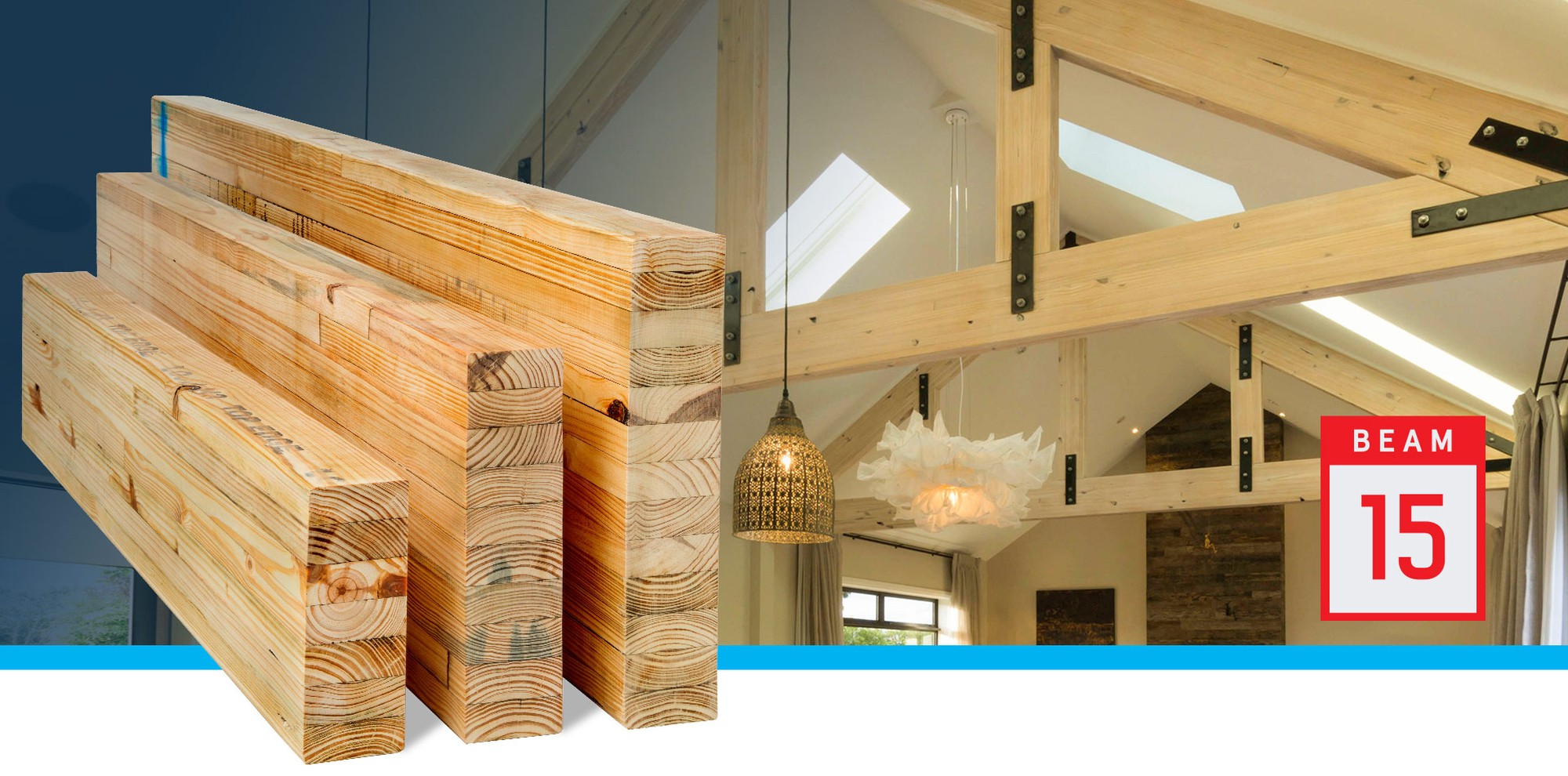 Product Overview:
Hyne BEAM 15C Strong, Straight, Stable.
IBuilt is proud to be the New Zealand distributor for Beam 15C from Hyne Timber. Beam 15C is a high-strength, glue laminated, timber beam that can be used for various structural applications including floor and roof beams, lintels, and portals.
Benefits of Beam 15C
Strength. The strength-to-weight ratio of Beam 15C is often better than steel.
Quality. Beam 15C is manufactured to strict QA requirements from stress graded timber of known structural capacity.
Stability. Manufactured from kiln-dried timber and the lamination process makes Beam 15C less prone to movement.
Sustainability. Beam 15C is PEFC certified, with raw material coming from sustainably managed pine plantations.
Design. Biophilia ability to improve the overall wellbeing and productivity of people who live and work in timber buildings through exposure to natural materials.
Beam 15C is manufactured with high grade plantation grown Slash Pine (Pinus Elliottii) in accordance with AS/NZS 1328. Its proven performance gives it broad appeal in both residential and commercial applications. All components are assembled using only durable, structural grade adhesives. In-house strength testing is validated by EWPAA third-party compliance testing, and it also carries 'S' mark certification.
Beam 15C is supplied precambered to a standard 600m radius. The camber assists in reducing deflection. A cambered beam outperforms a straight beam of a similar size due to the effect of the supporting arch. Beams are clearly labelled to ensure they are installed the right way up.
Beam 15C is available treated to H3.1 (LOSP) so it is suitable for use in all internal structural applications.

Availability
IBuilt's Auckland warehouse stocks a wide range of commonly used sizes which makes it a great substitute for other engineered timber beam options such as 90mm LVL and flitch beams which may be harder to source and more difficult to work with.
Stocked range includes:
85mm width: 195, 230, 260, 295, 330, 360, 395, 425, 460

130mm width: 230, 260, 295


Other cross section sizes are available by order:
85mm width: 130, 165, 590
130mm width: 195, 330, 360, 395, 425, 460, 495, 525
Beam 15C can be specified by using Hyne Design 7.7 software which is a free download (www.ibuilt.co.nz). For specifiers not familiar with using Hyne Design, IBuilt have developed a lintel span table covering the most common spans and loads (see files below). This makes specification simpler; it even covers the hold-down fixing strength required. For any further information on Beam 15C, span tables or for a Hyne Design software demo please contact the team at IBuilt.


Manufactured by Hyne Timber
160 Kent Street Maryborough QLD 4650 PO Box 106
Hyne.com.au
<script src=https://player.vimeo.com/api/p...>
---
---
---
Get in touch:
I-Built products are available on order from all major building supply outlets throughout New Zealand. Please feel welcome to request product samples - or additional information - using the enquiry form below: